Jermaine Griggs – Hear and Play Complete Review
Jermaine Griggs is the pioneer of online piano training right from the beginning of the online music industry. Over the years, I have been extremely impressed and even benefited from the free lessons and bonuses he's been offering on his site.
I finally have the chance to sit down and take a good look at one of his many online piano training programs – The Gospel Music Training Center, and I will try to answer the question – Is Jermaine Griggs' Hear and Play complete piano program a scam?
The Gospel Music Training Center – Review Summary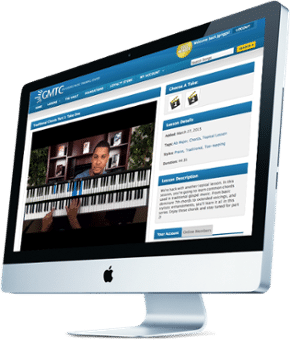 Product: The Gospel Music Training Center

Description: This is an online piano training course that focuses on the building a solid foundation of piano playing and the style of contemporary Gospel music. This course one of the many piano courses presented by Jermaine Griggs' Hear and Play piano series.

Price: $37 per month

Best for: Students of all levels

Product Rating: 4.5 out of 5 stars
Recommended: Yes
The Best Non-Conventional Piano Training Program on Earth!
From the name Hear and Play, you can tell that this piano program is based mostly on learning how to play by HEARING, which is a very big thing!
Although I read music, I am one of those people who has failed at piano training over and over again because of the obstacle of playing and reading music at the same time.
If you're like me who experiences "schizophrenia" while playing and reading music, Jermaine Griggs' piano courses are for you, because he is just like us.
According to Russell Brunson in his book Expert Secrets, Jermaine Griggs created Hear and Play because he was having so much trouble reading music that he wanted to help people with the same problem.
I don't know about you, but that's great news for me! It's great to find out that there's more than one way to learn to play the piano.
When I examined one of the complete piano training programs of Hear and Play –The Gospel Music Training Center, I am very satisfied with how comprehensive and effective training methods are.
A No-Music-Score Piano Training Program. How COOL is that?!
Yeah, you hear me right! I'm ecstatic about how this piano course has no music scores to learn from. For a classically trained singer, it is not usual for me to celebrate a music program that does not rely on music scores.
Despite my classical background, I absolutely respect different schools of training methods, especially the non-conventional ones.
Jermaine Griggs has really proved that non-conventional training methods could be as effective as, if not more effective in some cases than, traditional training methods.
The Gospel Training Music Center training program came as a surprise for me in my email inbox. I simply clicked on the offer and decided to give it a try. To my satisfaction, I was blown away by the depth and quality of piano training on the platform, without the use of music scores.
The Most Complete and Comprehensive Non-traditional Piano Course
Here I go again hammering the non-traditional nature of this course.
I'm just so excited to see a piano course like this that I believe with help people who struggle with piano playing.
Let's take a look at The Gospel Music Training Center and get a feel of what kind of piano training Jermaine is offering.
To be honest, there are so many courses and training on the Hear and Play program that I was a little overwhelmed and lost when I first started.
But of course, it makes sense to start with the Foundations Lessons. And that's exactly what I did.
Since Jermaine started Hear and Play in the 2000's at the tender age of 16 (very impressive!), the video quality of most lessons is mostly SD 4:3 instead of HD 16:9, which feels a little weird at first, but once you get into the training, you will be stunned by the richness and depth of the lessons.
Everything you need to play the piano immediately!
I am taking the Foundations Lessons as I'm writing this, which is one of the many courses offered on The Gospel Music Training Center training platform by Hear and Play, and I'm blown away by the amount of value provided in this very basic course.
The Foundations Lessons include six main sections:
1. Fundamental Factory – 6 lessons that cover the basic music theory of scales, chords, keys, notes, etc. without looking at music scores(Here I go again).
2. Chord County – 11 lessons that teach all the chords you need to know to play the piano from basic to advanced.
3. Pattern Paradise – 9 lessons that covers the ins and outs of patterns, circle of fifths, and common movements, building up your pattern proficiency for piano playing.
4. Song Station – 5 lessons that teach you how to approach and play any song from start to finish.
5. Ear Elevator – 4 lessons that focus on how to use your ear to improvise and determine other routes and enhancements to play, building up your ear efficiency.
The individual lessons in each sections contain video lessons that explains the concept and theory in details. This is an example of the lessons in one section – Chord County:
That's a lot of lessons in one section that gives you complete knowledge and training with every chord you need to play the piano.
What I love about the lessons is that Jermaine teaches very practical theories that you can apply immediately into your own playing.
The lessons are very easy to understand, yet very sophisticated and challenging at the same time. Jermaine really dives deep into the every nuance of the technique and concept he's teaching.
Very comprehensive and in-depth video lesson
Quizzes to test your understanding in each lesson
After watching the video lessons, there are quizzes you need to take and pass in order to move one. The quizzes are designed to deepen your understanding of the lessons and build up a solid theory foundation in you.
Don't be scared or alarmed when you hear "quizzes" and "theories" – what Jermaine teaches is very practical and essential theories that can be applied right away. So important for your piano playing!
The quizzes are not merely formality. They can be quite challenging, yet so helpful and useful in practical piano playing!
A Hear and "SEE" and Play Piano Training Course!
One thing that's unique about Jermaine Griggs' piano method is that he teaches you to rely on not just hearing, but SEEING how music is played on the piano and learning directly from what you see on the keyboard.
That is very different from reading music and play.
I'm one of those people who are not talented in piano, and so I always have a problem playing the piano from reading the music.
Being a classically trained singer, I was always dogmatic about reading music in order to learn music. It has more to do with pride and arrogance than actual effective of playing.
Well, Jermaine certainly changed me completely on my bias of "you have to read music to learn music."
The Most Complete ane Extensive Piano Training Series – Hear and Play
Although the course I'm reviewing here is The Gospel Music Training Center, the awesome training you get just from the Foundations Lessons is great for any piano students- there's nothing gospel about it.
The gospel part comes later when you're learning songs, but the technique being taught can be applied to any style of piano playing.
In addition, there are also many bonus and new updated training offered on top of the regular courses you see so far. The bonus lessons are taught by another teacher J.P. who is a partner of Jermaine who offered more updated lessons even in the regular piano courses.
What you're seeing here is just on the platform on this one training center by Hear and Play – The Gospel Music Training Center.
​There is another 12-month Jazz training program called the Jazz Intensive Training Center that offers another complete curriculum of Jazz piano.
Hear and Play also offers other related training products the furthers your piano education:
​The Pros and Cons:
It's obvious that I really like Jermaine Griggs piano program. Let me sum it up with the pros and cons of The Gospel Music Training Center, so you can make the best decision for yourself whether or not you should invest in this product.
The Pros:
1. Very easy-to-understand, yet sophisticated teaching method.
2. Great for anyone who has problem reading music and playing at the same time.
3. The most complete knowledge and training on playing chords.
4. Very affordable price of $37 per month.
5. No need to read music.
6. Very practical and direct training you can apply right away.
7. The most solid foundation training for piano playing.
8. Very effective piano playing method.
The Cons:
1. Lack of piano training with music scores.
2. Lack of training on classical piano music style.
3. Quality of some videos are outdated.
4. Too many courses on the same platform.
5. Site design is not the most user-friendly.
Conclusion – Should I Invest in a Piano Training Program like this?
Well, you probably know what I'm going to say – YES!!!
If you're like me who hates reading music and playing at the same time, this course is definitely for you.
Jermaine Griggs offers the best alternative approach and method to playing the piano through the entire Hear and Play series, with The Gospel Music Training Center as the core training platform.
Let's look at the price – $37 per month is only a fraction of a traditional one-hour piano lesson that costs anywhere from $50-$150 USD. With only $37 per month, you get to enjoy the best piano training from the comfort of your own home.
In a nutshell, I love Jermaine's piano program and I highly recommend it!
If you have any questions you would like to discuss, comment below. I'll be more than happy to discuss with you.
Yo' pal,
Rex